'Twilight: Eclipse' taps magical powers of youth tradition
'The Twilight Saga: Eclipse' strips away the otherworldliness of vampires and werewolves, appealing to the imaginations of the young.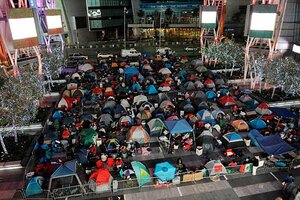 Chris Pizzello/AP
Hollywood's hottest teen movie, "Twilight: Eclipse" has arrived with the latest chapter in the love story between Bella and her vampire beau, Edward. But while the drama of a first crush is clearly driving ticket sales, the story also resonates with young readers who may have little interest in adolescent passion, but respond to its timeless quality of adventure and sense of wonder, say trendwatchers, literary critics and media experts.
One in every five Yahoo! searches for the book's Wolf Pack pups is from a pre-teen, says the company's trend analyst, Vera Chan. "There is an understanding of the mystical world," she says, adding that they have not been immersed in the real world, "and their imagination where wizards, witches and werewolves are real is very much a part of their daily lives."
They relate to the pure sense of adventure, says pop culture expert Rob Weiner, librarian for Texas Tech University Libraries in Lubbock. "They have a deep desire to ask 'what if?' " he says, and the "Twilight" tales do a good job of taking that question to a new level.
The books, he says, strip away much of the other-worldliness from the space in which vampires, werewolves and other fantastical creatures dwell, and make it all seem everyday. "They normalize the experience of loving a vampire and knowing werewolves," he points out, adding that this speaks to an important desire in this age group – "a great desire to make the fantastical real."
---
Follow Stories Like This
Get the Monitor stories you care about delivered to your inbox.