Emptier prisons: Inmate population drops for first time in 40 years
The number of inmates in state prisons declined in 2009 after a long upswing. Efforts to control skyrocketing corrections budgets are a key reason.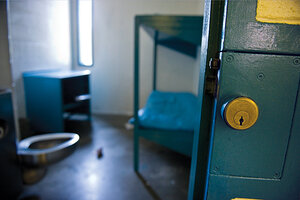 Alfredo Sosa/Staff
Three years ago, Rhode Island's prisons were straining to house the state's booming inmate population. With cells overflowing and bed space maxed out, dozens of inmates were being housed in holding cells, Spartan quarters designed to hold prisoners for a few days.
Some inmates lived in these holding cells for days on end, sleeping on mattresses on the floor, awaiting trips to other modules for showering and using the toilet. This, even after the state launched a massive and expensive construction campaign designed to solve prior overcrowding problems.
Today, most of those holding cells are empty, and entire blocks of cells have been closed off for months at a time in the Intake Service Center, the state's jail.
After peaking at about 4,000 inmates in late 2007, Rhode Island's prison population is now around 3,300. It's an improbable position for the state, whose prison population was projected to grow another 25 percent in the coming decade.
"The change has been dramatic," says A.T. Wall, director of the Rhode Island Department of Corrections. "The staff is less harried … there's a sense that we're in charge, a general feeling that things are calmer, more orderly."
After surging for decades, the number of state prisoners in the United States has declined for the first time in nearly 40 years, according to the Pew Center on the States in Washington. As of Jan. 1, state prisons across the country held 1,404,053 people – 4,777 fewer than a year ago.
---