'Barefoot Bandit' fans flock to Facebook to offer support
'Barefoot Bandit' or Jesse James? America has a soft spot for some wrongdoers. Colton Harris-Moore won fans on Facebook and beyond as a suspect in robberies that 'stick it to the man.'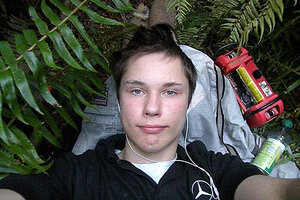 Island County Sheriff's Office/AFP/Newscom
After a two-year campaign of robbery across several states and three countries, authorities in the US and the Bahamas are getting ready to throw the book at Colton Harris-Moore, also known as the "Barefoot Bandit."
Thousands of people online, however, just want to give him a round of applause.
More than 85,000 people have joined various Facebook pages and online fan groups in support of Mr. Harris-Moore, who was arrested Sunday in the Bahamas after a high-speed boat chase. While some have decried Harris-Moore's robberies, he has also become the latest in a long line of American celebrity criminals.
Harris-Moore's exploits stealing cars, boats, and planes from the wealthy are a big part of his appeal to his fans. "Stick it to the man," reads one comment on the Facebook page "Colton Harris-Moore, the Barefoot Bandit."
"He made them all look like a fool," another wrote at the "Colton Harris-Moore Fan Club" on the social networking site.
Many more fans have gravitated to Harris-Moore simply because of his audacity. "[He] was living life the way a lot of people wish," one commenter on the "Barefoot Bandit" page wrote. "It's about time someone live free and fly," wrote another.
Since his capture, a number of people have written sadly about not being able to live vicariously through Harris-Moore anymore.
Criminals have been achieving cult status for about as long as they have been committing crimes. Beyond the legend of Robin Hood, famous robbers like Jesse James and John Dillinger won fans simply by taking the wealthy and powerful down a notch.
---