College credit for Wal-Mart work: Should doing a job count toward degrees?
Wal-Mart and other companies are giving their employees college credit for skills they've learned on the job. The extra credit is the boost many workers need to finish stalled degrees.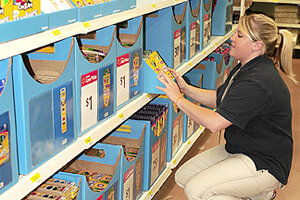 Shauna Marlette/Yankton Press & Dakotan/AP
Hundreds of thousands of Wal-Mart employees now have an extra reason to consider pursuing a college degree. Through a partnership with the online American Public University (APU), they can qualify for free college credits that are awarded for the knowledge and skills they've gained in certain job categories. By 2012, 70 percent of the giant company's US staff will be in jobs that are eligible for free credits.
The partnership is emblematic of changes in the college landscape. Many adults are going back to school to upgrade their career prospects – a move that could be essential for today's difficult job market. In addition, President Obama has said that by 2020, the United States should lead the world in the rate of college degrees earned.
It is against this backdrop that demand is growing for more credits for learning accomplished outside the classroom – in the military, the workplace, or even volunteer activities.
Rather than simply requiring traditional "seat time,... everyone is looking [for how to] get more people through higher-ed programs faster and in a more flexible way," says Richard Kazis, senior vice president of Jobs for the Future, a research and policy organization in Boston.
But is working in a job, say, as a cashier really worthy of college credit?
If a student can show how the experience translates into knowledge and skills that others might learn in a college class, then yes, higher-education experts say.
---
Follow Stories Like This
Get the Monitor stories you care about delivered to your inbox.