George Steinbrenner: architect of the multimillion-dollar athlete
George Steinbrenner, who passed away Tuesday, resuscitated the Yankees by the force of his will and checkbook. He was a trailblazer in the commercialization of baseball.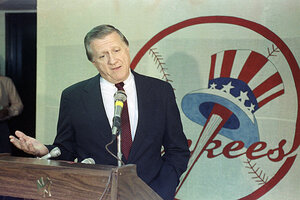 Ron Frehm/AP/file
To New Yorkers, George Steinbrenner – who passed away Tuesday – was simply "The Boss."
As the owner of the New York Yankees, he opened his checkbook, hiring super stars who helped bring seven World Series trophies to a city that considers itself the Mecca of professional baseball.
Around New York there was almost immediate reaction to his passing. Mayor Michael Bloomberg, declaring few people have had a bigger impact on the city than Mr. Steinbrenner, ordered the flags at City Hall plaza to be lowered to half staff in Steinbrenner's honor. "George was a larger than life New York figure whose passion and drive to succeed will forever be missed," said Mr. Bloomberg in a statement.
IN PICTURES: George Steinbrenner through the years
Steinbrenner's influence went beyond New York. He was, in many respects, the first owner to embrace free agency, offering top players unheard of sums of money to join the Yankees. In the process, he revolutionized professional sports, ushering in the current era of multimillionaire athletes.
"He came into baseball a few years before free agency and was one of the first owners to realize the opportunities it presented," says Andrew Zimbalist, a professor at Smith College and the author of "Circling the Bases: the Future of the Sports Business," which will be published this fall. "
---