As 'American Idol' swaps hosts, will audiences stay loyal?
'American Idol' returns just one original judge next season. The search for replacements has media watchers wondering if the show can survive.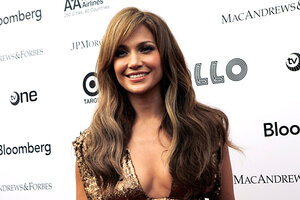 Natalie Behring/Reuters
While the team behind Fox's "American Idol" plays musical chairs with the judges and possibly other elements of the show's formats, everyone from industry observers to TV experts and branding pros are casting votes for what direction the iconic show should take.
Fox has yet to open phone lines for advice, but recommendations from critics and armchair amateurs include everything from more, fewer, or non-professional judges, expanding the age pool (again – the show just lowered the entry age to 15 this summer) and taking on a more charitable bent.
"It may be just a TV show, but some matter more than others," says media strategist Don Tanner, who says the show should go on, even with sweeping changes.
"Perhaps the greatest legacy of 'American Idol' has been its ability to bridge generational demographics and emerge as a true mass medium in an era of segmentation," says Mr. Tanner via email.
The show harkens back to the "Ed Sullivan Show" from the '60s, where every Sunday night the vast majority of the country was tuning in. Few shows can match that standard, he says. In past decades, only "one-offs," such as the final episodes of "MASH" and "Cheers" – and sporting events such as the Super Bowl – could boast such vast viewing numbers. "In that way, it has been a true phenomenon unlike TV has ever seen," he says.
---