Hillary Clinton to-do list: mother of the bride, avoid nuclear war
In the months leading up to Chelsea Clinton's Saturday wedding in New York, Secretary of State Hillary Rodham Clinton juggled diplomacy in places like the Korean Peninsula while checking flower arrangements and dress options on her Blackberry.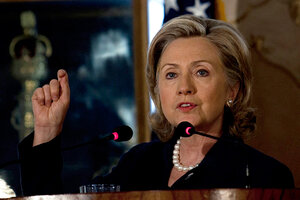 B.K.Bangash/AP
Secretary of State Hillary Rodham Clinton is a busy woman, so she can be grateful that the New York Daily News settled one of the more time-consuming questions revolving around daughter Chelsea's wedding on Saturday.
The New York tabloid decided that Miss Clinton's wedding to investment banker Marc Mezvinsky in Rhinebeck, NY, is merely the "wedding of the decade." [Editor's note: The original version of this story misspelled Marc Mezvinsky's name.]
Done.
Earlier characterizations in the same publication's pages had included "wedding of the century" and "wedding of the millennium." (No Daily News reporter had apparently been dismissive enough to call it the "wedding of the day," although presumably that would still have been quite a distinction).
IN PICTURES: Chelsea Clinton through the years
With this issue off the table, the secretary of State could get back to solving the Middle East conflict, sanctioning Iranian President Mahmoud Ahmadinejad, and getting tough with China over economic policy.
---