Is New York cabbie stabbing result of 'anti-Muslim hysteria'?
Islamic leaders are concerned that the increasingly heated debate over the mosque near ground zero is stirring up anti-Muslim rhetoric that could incite violence and hate crimes.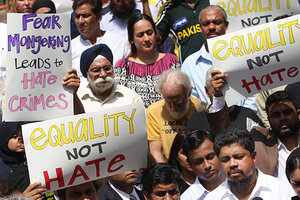 Seth Wenig/AP
In the wake of a knife attack on a Muslim New York City taxi driver, Islamic leaders are calling for an end to anti-Muslim rhetoric that many say has proliferated on talk radio and cable TV amid the heated debate over the planned Islamic center near ground zero.
Many prominent Muslim-American leaders say they are alarmed by what they deem "anti-Muslim hysteria" that could lead to violence and hate crimes.
"I have been working on behalf of other Muslims for more than 30 years and I have never see it like this, not even after the 9/11 attacks," says Ibrahim Hooper, a spokesman for the Council on American-Islamic Relations (CAIR) in Washington.
WATCH VIDEO: Three Muslims in New York talk about American misconceptions of Islam
Mr. Hooper blames the harshness of language toward Muslims not just on the heated protests over the Islamic center planned for a site 2-1/2 blocks from ground zero, but also on right-wing rabble rousing, continuing resentment over the election of Barack Obama, and the difficult economy.
"We've had a perfect storm for Islamophobia," Hooper says.
Erica Payne, the founder of a New York nonprofit called the Agenda Project, blames politicians of both parties for not speaking out more forcefully against what she called an increase in hate speech directed at Muslims.
---