Mosque debate: Behind America's anxiety over Islam
Controversy over the New York and other mosques underlines the struggle to balance values of religious tolerance with fears, real and imagined, in an age of terrorism.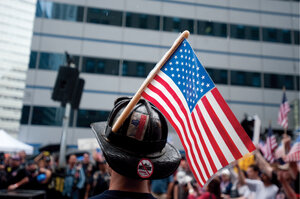 Photos by Ann Hermes / Staff
As the maelstrom over the proposed Islamic center near ground zero rages a short distance away, Shahid Farooqi, a devout Pakistani immigrant, is handing out book bags and school supplies to hundreds of needy children and their parents for the start of the school year. It's Ramadan, the most holy month on the Islamic calendar, and Mr. Farooqi is volunteering his time with the Islamic Circle of North America, a grass-roots organization devoted to establishing a place for Muslims in America.
The charitable giveaway is the religious group's first event here at an undeveloped lot in Midwood, a neighborhood in Brooklyn often referred to as "Little Pakistan," where it plans to build a youth center. Farooqi and others are dressed in classic American volunteer attire – yellow T-shirts emblazoned with a logo – but the men also wear topi skullcaps and the women observe hijab, covering their hair and necks with scarves. The volunteers are well aware that a 15-minute subway ride away, hundreds of protesters, many carrying US flags, are marching through the streets of Manhattan near the site of a much larger proposed community center, chanting, "No mosque here! No mosque here!"
"When you have certain beliefs, of course not everyone is going to be happy with you," says Farooqi, a history teacher who lives in Queens with his wife and four children. "But regardless of people finding and putting labels on us, still, we have to do good work, and we have to face those challenges ... and we believe that once we continue doing this, we're going to make our home here, in this society...."
---