Chicken magnate and Clarion, Iowa: uneasy pairing even before egg recall
The man behind Wright County Egg, the firm involved in last month's egg recall, may not be reviled in Iowa, but he's not admired either. How his egg business has changed Clarion, Iowa.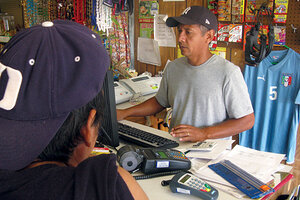 Richard Mertens
Austin "Jack" DeCoster's egg business has brought hundreds of jobs to this flat corn-and-soybean country of north central Iowa. Mr. DeCoster has personally contributed generously to many civic causes – an aquatic center, a retirement community, a parking lot downtown. Each year he serves townspeople a free meal in the town park for his "Appreciation Day." When the Clarion Public Library reopened last year after extensive renovation and expansion, the beautiful new children's corner was thanks to DeCoster.
But many residents of this little county seat of 3,000 people still strain to speak well of him.
"I think he's done a lot of good in the county," says Scott Etter, owner of the New Home Cafe, where DeCoster occasionally dines. "On the other hand, why is he doing all this good? To calm the waters, or out of the goodness of his heart?"
The mixed views of DeCoster reflect the ambivalence over how the egg business has changed Clarion and surrounding Wright County during the past two decades. Indeed, few people were surprised when DeCoster's company, Wright County Egg, was found this year to have shipped salmonella-tainted eggs, launching a recall last month of 380 million eggs. In the eyes of Clarion, it's been trouble from the start. Federal inspectors this week found mice and other sanitation lapses at the Wright County Egg chicken sheds.
---