9/11 memorial ceremony at ground zero simple, poignant
At the 9/11 memorial ceremony in New York Saturday, family members and others read the names of those who died that day in 2001. It took over three hours as the day grew warmer.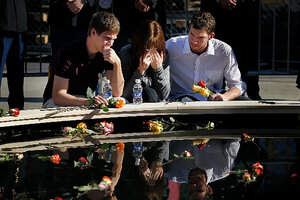 Newscom
Thousands of victim's family members, friends, and onlookers gathered on a cold, windy morning to commemorate the ninth anniversary of the September 11 terrorist attacks in New York City.
A simple raised platform fronted the rising skeleton of the Freedom Tower. Family members of some of the 2,752 World Trade Center attack victims alternated with workers engaged in the rebuilding effort as they read the names of those who had died. The simple, poignant ceremony was punctuated by four moments of silence, noting the exact times that planes struck the twin towers, and when those towers fell.
For Charlie Jaffe, a teacher who lost his brother-in-law Lonny Stone that day, nine years has done little to heal the sudden, senseless loss.
IN PICTURES: Revisiting Ground Zero
"My wife still cries every year. She used to cry two months before, now it is two weeks before. Maybe now we don't anticipate the dread with as much trepidation as we did," Mr. Jaffe says. Still, he takes some comfort in the small joys the passage of time brings. A friend of his brother-in-law had fathered twin baby girls who later attended Jaffe's school. "It's the only solidarity I can really feel."
---