Bishop Eddie Long faces 'monster' accusations. Can his church survive?
The future of New Birth Missionary Baptist Church, one of the nation's largest black churches, hangs in the balance as Bishop Eddie Long and four young men joust in the media and courts over gay sex allegations.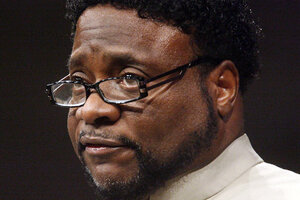 John Amis/AP/Pool
One of the four young men accusing Bishop Eddie Long of abusing his pulpit power to force them into sex has now gone on Atlanta's airwaves to condemn the charismatic megachurch pastor as a "predator" and a "monster."
Bishop Long, who denies the charges but admitted from his pulpit Sunday that he is "not a perfect man," has decried the case on television as "spiritual warfare."
But even as the heated exchanges multiply in the Atlanta media – in what some observers say could be an attempt to jockey for position ahead of an out-of-court settlement – a more immediate question is looming for Mr. Long: Can his ministry, and his 25,000 member New Birth Missionary Baptist Church, survive the increasingly explicit accounts of Long's alleged misdeeds?
Some who study the black church will be watching to see how his flock reacts when Long passes the plate at Sunday service.
"There's a lot of theater here, it's a live chess match," says Tulane sociologist Shayne Lee, author of "Holy Mavericks: Evangelical Innovators and the Spiritual Marketplace." "The plaintiffs want to keep the blood flowing, and Bishop Long is trying to figure out how to stop the bleeding. But the longer this goes on in the media, the more [church] members are going to demand cogent responses to the claims instead of vague denials."
---