Report: One-third of US teens are victims of cyberbullying
The suicide of Rutgers student Tyler Clementi has brought more attention to cyberbullying. A new study examines the scale of cyberbullying among US teens.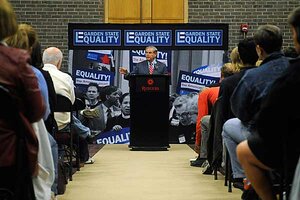 Bill Kostroun/AP
More than half of American teens worry about safety on the Internet and know someone their age who has been targeted by hurtful electronic communications. Nearly a third have been targets themselves.
Those recent survey results, released by the Chicago youth-market research firm TRU, hint at the scale of the problems being addressed more vigorously in the wake of the suicide of Rutgers student Tyler Clementi and other cases of cyberbullying.
When it comes to safety online, young people's main "knowledge gap" relates to "setting ground rules of what's acceptable behavior ... and how that technology may be used against them ... where they could be blackmailed or cyberbullied," says Richard Harrison, lead mentor for the Safe and Secure Online program, which enlists online security experts to volunteer in schools.
The presentations, given by members of the professional information-security group (ISC)² are aimed primarily at grades 7 to 9. Students discuss scenarios and how to use good everyday judgment to prevent them from reaching the extreme cases they may have heard about in the news.
Parents tend to have these conversations reactively, and often don't realize a gaming device even has Internet capability, Mr. Harrison says. [For a list of parent tips, see below.]
October is designated as both National Cyber Security Awareness Month and National Bullying Prevention Month.
---