Did Glenn Beck's rhetoric inspire violence?
Glenn Beck's attacks on the Tides Foundation are being linked to a heavily-armed man's attempt to assassinate the progressive organization's employees. Rhetoric has consequences, critics say.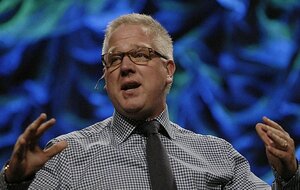 Mark Welsh/The Arlington Heights Daily Herald/AP
Fox News commentator Glenn Beck, who's honed being provocative – even outrageous at times – to a fine and lucrative art, is the focus of criticism for inciting violence.
Specifically, his dozens of comments attacking the Tides Foundation are being linked to the attempt by a heavily-armed man to assassinate employees at the San Francisco-based foundation, which funds environmental, human rights, and other progressive projects. The attack in July was thwarted in a shoot-out with police in which two officers were wounded.
Since then, alleged attacker Byron Williams has said in jailhouse interviews that he wanted to "start a revolution." He says Beck was not the direct cause of his turning violent. But he does say: "I would have never started watching Fox News if it wasn't for the fact that Beck was on there. And it was the things that he did, it was the things he exposed that blew my mind."
At various times, Beck has referred to Tides as "bullies" and "thugs" whose mission is to "warp your children's brains and make sure they know how evil capitalism is." More recently, Beck (who describes himself as a "progressive hunter") has warned the foundation "I'm coming for you."
This has drawn criticism from various quarters.
'People are turning to guns'
---