Recession officially over, use of food stamps stays at record high
Increased need and eased eligibility requirements are reasons use of food stamps remains high. A food stamp 'debit card' reduces the stigma, too.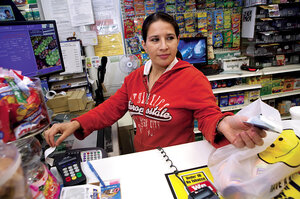 Melanie Stetson Freeman /Staff
Before the recession, Mary Ellen Hayden was living an active New York City life. She worked days at a corporate job, nights as a professional singer, taught as a substitute on occasion – and all as she was finishing her certification in secondary English education.
Then the recession hit and Ms. Hayden found herself out of a job and living on a shoestring budget in the most expensive city in the US.
"Things were drying up left and right," says Hayden, who had completed her bachelor's and master's degrees at private universities in the Northeast.
When a friend told her she could qualify for food stamps, she hesitated, but not for long.
"I was surprised it existed for me," says Hayden, who moved recently to more-affordable Rochester, N.Y. "And embarrassed because I'd never done it before. You think, 'Oh my gosh, I hope no one sees me.' It's a humbling experience for someone who's never been on it before."
The recession introduced millions of Americans to food stamps – many of them, like Hayden, for the first time. Now, more than a year after the recession is officially said to have ended, more Americans than ever are on food stamps, and the trend is higher still.
The obvious question is, why?
---