How Harry Potter is inspiring muggles to help from Haiti to Darfur
The magical Harry Potter movie franchise enters its concluding phase this week, but its impact is still growing. Its legacy: young activists motivated to find solutions to real-world problems.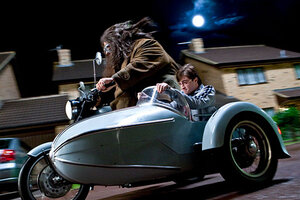 Jaap Buitendijk/Warner Bros. Pictures/AP
"The boy who lived," Hermione, Ron, Dobby, Dumbledore and the rest of J. K. Rowling's magical characters launch their final film chapter this Friday with "Harry Potter and the Deathly Hallows, Part 1."
But even as the Potter franchise begins its big screen fade to black, the impact of this alternately charming and cautionary wizarding world only grows. And not just in the customary fan sites spawned by many a great read.
Taking the moral lessons and emotional themes off the pages and into the real world, lovers of the gentle Albus Dumbledore's wisdom and the hard-earned social awakenings of Hermione Granger have been inspired to address human needs, providing relief planes for Haiti and art supplies for orphans.
Henry Jenkins, a media scholar and cultural expert at the University of Southern California in Los Angeles, says the phenomenon represents a new and more potent brand of online-enabled, participatory culture. He cites the Boston-based Harry Potter Alliance (HPA) as the most prominent organization to translate the moral lessons of the seven-part literary series into real world remedies.
---