'Harry Potter and the Deathly Hallows': Do the films stand on their own?
The cinematic versions of 'Harry Potter' lack the 'oomph' of the books. Film critics say some have been too derivative. Potter fans say they aren't faithful enough.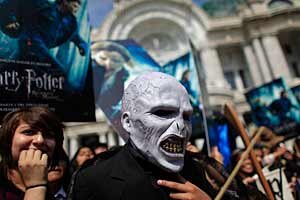 Eliana Aponte/Reuters
Thursday at midnight is the beginning of the end for the big-screen life of the Boy Who Lived as "Harry Potter and the Deathly Hallows, Part 1" opens, with Part 2 scheduled for next summer.
Advance ticket sales have outstripped the previous film, but as the franchise begins its move from theatrical exhibition into Netflix and family DVD libraries, the question arises: how good are the movies – really – and how will they hold up over time? Do the cinematic versions have the same cultural oomph that propelled J.K. Rowling's ink-on-paper universe to such global popularity?
The general consensus seems to be that one or two of the films – most notably the third installment, "Harry Potter and the Prisoner of Azkaban," will achieve independent status as a good if not great film. The rest of the canon – still unfolding as it is – is more problematic.
The first two films were just plain not good, says author Philip Nel, a Kansas State University professor who teaches graduate courses on Harry Potter and has written extensively about the relationship between the films and the books.
---