Thanksgiving 2010: In these hard times, are Americans thankful?
Thanksgiving 2010 finds Americans politically divided and struggling financially. But poll data suggest that Americans are fiercely resilient, a quality that is strengthened by feeling gratitude.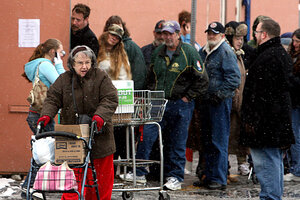 Steve Bloom/The Olympian/AP
A wavering economy, a polarized electorate, a future in fog. On the eve of Thanksgiving 2010, what's there to be thankful for in America? As in the 1970s, the so-called "misery index" has risen in recent years as the deficit ballooned, incomes flattened, and a mortgage crisis put the dream of homeownership in jeopardy for millions. Yet nearly three years into a national economic crisis, there's evidence in polling data that gratitude – the positive emotion that flows from the realization you've benefited from another's deeds – is being embraced by Americans as a way to readjust their expectations and reevaluate their lives.
What indications are there that Americans are thankful?
The latest Gallup "life evaluation" poll, which measures how Americans view their lives in the present and in the near future, showed the highest scores in three years in May and a slow but steady climb since November 2008 – a sign, Gallup says, of "ferocious resilience."
And an important factor bolstering resilience, say researchers Robert Emmons at the University of California, Davis, and Michael McCullough at the University of Miami, is experiencing and showing gratitude. The social scientists say gratitude can also thwart deeper feelings of resentment that stem from personal economic woes or anger at, for example, the political status quo in Washington.
---