And now, Spider-Man the musical: Can it spin gold on Broadway?
'Spider-Man: Turn Off the Dark,' already the most expensive Broadway show ever, gives its creators a chance to mine the rich vein of dramatic material about Peter Parker's reluctant hero.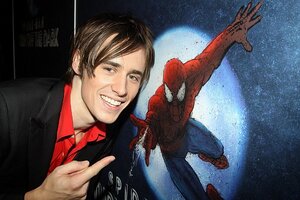 Bruce Glikas/O&M Co./AP
Peter Parker's Spider-Man has swung through most every mass medium of the past half century, from his comic book debut in 1962 to television, movies, and cartoons. Now, however, he is set to alight on the Great White Way in what is already the most expensive Broadway production ever mounted, some $60 million and counting.
The musical extravaganza – "Spider-Man: Turn Off the Dark," with music from Bono and The Edge – will debut in previews on Sunday with a scheduled January opening.
With so many explorations of the Peter Parker psyche, it's hard to figure what is left to say, but as Glen Berger, co-creator of the musical's narrative, or "book," says, "this is a rich vein that comic book writers have been mining for years and they aren't done yet." The powerful mythic structure of the Peter Parker transformation into a deeply-conflicted and reluctant hero, he adds, "is really bottomless material."
The wow factor
As for what the 2,000-seat theatrical experience can add to the Spider-Man canon, he says that while people will come expecting the wow factor of great modern stagecraft – and they will get it – the real emotional pow of the show comes from the deeper themes and narrative.
---