How 'Tangled' topped 'Harry Potter' at box office
Disney's Rapunzel tale, 'Tangled,' was the No. 1 movie in the US last week, surprisingly beating 'Harry Potter and the Deathly Hallows, Part 1' by mixing the studio's old-school princess formula with a dash of action appeal for boys.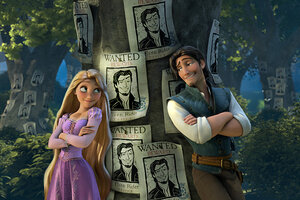 Disney Enterprises, Inc./AP
"Tangled," the Walt Disney Studio update on the Rapunzel fairy tale, is making a few dreams come true in Hollywood today.
In only its second weekend of release, the film hit the No. 1 spot at the box office this weekend. This means the film – the 50th animated Disney feature – beat out "Harry Potter and the Deathly Hallows, Part 1," the juggernaut sequel that is in only its third week of release.
This momentum give this family-friendly feature about $142 million in its two weeks of release so far, says Hollywood.com box office analyst Paul Dergarabedian.
IN PICTURES: Harry Potter through the years
"This is a welcome surprise for this retelling of a princess story," he points out, noting that Disney had reportedly become a bit nervous about the future of the princess genre after the disappointing performance of 2009's "The Princess and the Frog," which featured the studio's first African-American princess.
A princess movie for boys?
This re-imagining works for several reasons, he says.
---