Detroit's next step to combat blight: buy and rehab vacant homes
The city will use federal funds to buy and rehab vacant homes in targeted neighborhoods, says Mayor Dave Bing. It's part of a strategy to cope with a shrinking Detroit and to battle blight.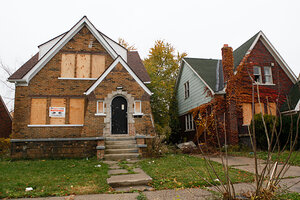 Newscom/File
Density is not a problem in Detroit. In fact, the city's populace is spread so thinly that local leaders want people to move closer together, so that public services can be delivered more efficiently and so that neighborhoods are busily vibrant rather than eerily empty.
Detroit took a big step toward that end Thursday, announcing it would use federal funds to try to steer residents into certain neighborhoods – not yet identified – that city planners see as economically and aesthetically viable.
Mayor Dave Bing said he hopes to redirect residents into seven to nine economically stable neighborhoods that have not yet lapsed into full blight. Using the federal money, Detroit will buy and rehab vacant homes in those areas, in a bid to appeal to residents living elsewhere who may be hesitant to move there and to offset the effects of rising unemployment and foreclosures.
"We want to make sure that, before those neighborhoods deteriorate much more, we give them support," Mayor Bing told the Detroit Free Press.
This is the second phase of the Detroit Works Project, a four-phase plan to reshape the city by removing blighted homes, encouraging entrepreneurship, and addressing its shrinking population. By late 2011, the city plans to craft a final plan, informed by a series of studies and public forums.
The challenge to Detroit stems from the fact that its population has been shrinking – and continues to shrink. During the auto industry's golden years, the city boasted nearly 2 million people. Now the population is not even half that. Bing says the 2010 census will show about 800,000 to 850,000 residents, but the Southeast Michigan Council of Governments says the city is sparser, estimating the remaining population at below 775,000.
---