Consumer spending is up: Are Americans enjoying a post-recession holiday?
Consumer spending this holiday season is higher in all retail categories. Debt is down, disposable income is up, and analysts say recession-weary shoppers are 'tired of being afraid.'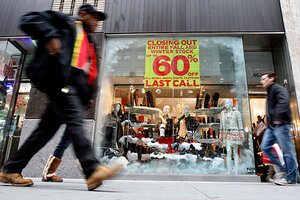 Mike Segar/Reuters
Consumers may be in a post-recession spending mood this Christmas season.
Spending is up in all retail categories compared with last year, according to MasterCard Advisors' SpendingPulse, which tracks spending on all transactions including cash. Analysts say the increase in personal savings and a decline in consumer debt are giving consumers more confidence than they had in recent years to spend on others and even themselves.
"There is tremendous pent-up demand as consumers are tired of being afraid. So they're seeing a little sunlight and a few more bucks in their pockets," says Robin Lewis, an independent retail consultant based in New York City. "They're willing to go out there and find a little treat for themselves."
SpendingPulse tracked retail sales beginning Oct. 31 and continuing though Dec. 11. Online sales showed the greatest increase, 13 percent, from the same period last year. Another sign of success of online shopping: Compared with the previous year, online sales increased 18.3 percent on Cyber Monday, the first business day following Thanksgiving, and 17.2 percent that entire week.
Although online buying has not surpassed brick-and-mortar retail, the double-digit increases this season shows "consumers are getting more comfortable and confident with [online shopping], and [online retailers] are designing strategies to pull more people in," says Mike Berry, director of industry research for SpendingPulse in St. Louis.
---