'Tis the season for flash mobs, you say? They're just getting started.
This year's delightful run of flash mobs is winding up with a flurry of Santas and carolers. But the phenomenon is so well suited to modern society and technology, it should last a while.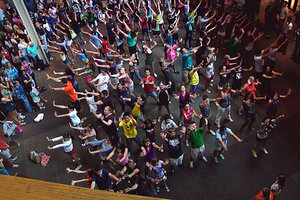 Courtesy of Ultan Byrne/ Papermill Playhouse
From Nashville airport police officers entertaining travelers with surprise dance moves Wednesday afternoon, to thousands of Santas popping up recently in Moscow subways or Manhattan's crowded streets, flash mobs are in peak holiday form this year.
Good-hearted glee lies at the core of these flash mob events, carried out by groups of like-minded folk gathered for a serendipitous moment or three.
This year's spate of unexpected fancies included thousands of dancers turning up to spin a Viennese waltz in the London Underground last summer as well as copycat outbursts of Handel's Hallelujah chorus across the US since the Opera Company of Philadelphia sang it at the local Macy's six weeks ago. Participants captured the event on cell phones and video cameras and uploaded it to the Internet, where it instantly went viral, the modus operandi of flash mobs everywhere and a favorite tool of the social media generation.
---