After 130 years, will Billy the Kid finally get a governor's pardon?
Outgoing New Mexico Gov. Bill Richardson is considering a pardon for celebrated outlaw Billy the Kid. An informal e-mail poll shows support. But time is running out.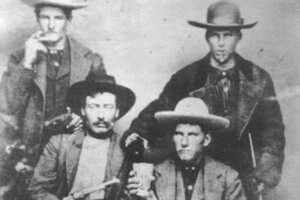 AP
Billy the Kid, the mythologized gunslinger whose bloody exploits have been both romanticized and condemned, may receive his pardon from New Mexico's governor this week – 130 years after historians say it was promised.
Bill Richardson, a long-time enthusiast of Old West lore who is leaving office after eight years as governor, polled his constituents via the state website, seeking their thoughts on whether the Kid deserves a posthumous reprieve for court testimony he gave in an 1879 murder.
The governor's office reported receiving more than 800 e-mails, mostly in favor of the pardon.
Like anything associated with Billy the Kid, whose real name may have been Henry McCarty but who also went by the names William Bonney and William Antrim, among others, legend and fact do not play well together.
Hundreds of films, novels, poems, songs, televisions and stage plays have offered widely divergent versions on Billy the Kid's life, where he was born, his motivations for killing, how many people he actually killed and even the circumstances of his death.
Public perception regarding the Kid is split into two camps, says Paul Hutton, a history professor and Old West expert at the University of New Mexico in Albuquerque: "people who see him as this homicidal maniac and [others] who see him as a romantic character fighting for justice against a corrupt New Mexico system."
---