Baby boomers: Officially, you're now senior citizens
Baby boomers – those born 1946-1964 – represent the largest population growth in US history. What will they do in retirement, and what impact will that have on society and the economy?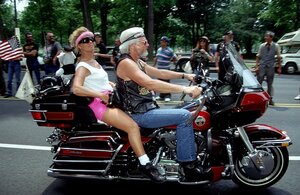 Newscom
It's official.
That generation of Americans raised on "Leave It to Beaver," who came of age during the battles over racial segregation, fought in (or over) the Vietnam War, joined the Peace Corps, marched for women's rights, and populated suburbia with their offspring are now senior citizens.
We're talking about baby boomers here – people born between 1946 and 1964, the first of whom turned 65 on New Years Day.
OK, so it's mainly a big deal for demographers, wonkishly charting and graphing society.
In fact, boomers have been eligible to join the AARP (formerly the American Association of Retired Persons) for 15 years, and they've already seen three of their number become president – Bill Clinton, George W. Bush, and Barack Obama (at the youngest end of baby boomerhood).
But the image is distinct.
They're still boogying to geezer rock. (Thank you Mick Jagger and Keith Richards.) Though their tie-dye may be fading and their pony tails dangling beneath bald pates, many are still certified political lefties – even though most boomers' political dissent these days comes as the graying base of the solidly conservative tea party movement.
---