Aftermath of Arizona shooting: More guns in more hands?
Despite gun control efforts in Congress in the wake of the Arizona shooting, it's unlikely that America will see more gun control laws. In fact, the opposite may happen, at least in Arizona.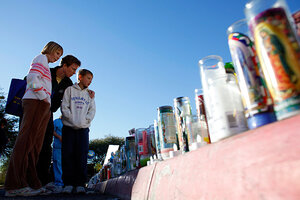 Eric Thayer/Reuters
Congress is preparing three new gun control laws in the wake of the shooting deaths Saturday of six people and wounding of 14 others, including Rep. Gabrielle Giffords, in Tucson, Ariz. But some Americans are drawing a different conclusion from the attack: Only more guns in more hands can reduce gun violence.
US lawmakers immediately began reviewing their personal security details in the wake of the shooting, even debating whether to install bulletproof glass to separate lawmakers from the publicly accessible Capitol gallery. At least two congressmen – Reps. Jason Chaffetz (R) of Utah and Heath Shuler (D) of North Carolina, both licensed gun carriers from staunchly pro-gun parts of their states – announced they'd be carrying weapons during upcoming public events in their districts.
And even as Arizonans held an emotional national memorial meeting with President Obama on Wednesday night for the victims of the worst act of gun violence since the Fort Hood shootings in 2009, the Arizona Legislature didn't hesitate this week to introduce a bill that would allow college students to carry weapons on campus.
---