Why Gabrielle Giffords shooting hasn't boosted gun control
America – and Congress – have changed during the past two decades, giving gun rights the upper hand in states and on Capitol Hill. The Gabrielle Giffords shooting hasn't changed that.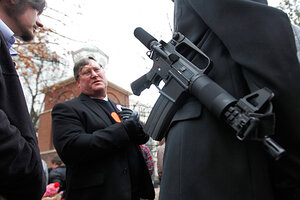 Steve Helber/AP
The aftermath of the shooting of Rep. Gabrielle Giffords and 18 others – six fatally – last week has resulted in no plans for sweeping antigun legislation.
Instead, gun control proposals forwarded by members of Congress in the past week have been notably limited in scope – seeking to address only narrow subsections of the population or perceived legal loopholes. The reason: the political calculus of gun control has changed dramatically in the past 20 years, resulting in a strongly pro-gun Congress.
"Let's be honest here: There haven't been the votes in the Congress for gun control," Sen Charles Schumer (D) of New York said on NBC's "Meet the Press." ''We're looking for some things where we can maybe find some common ground."
Senator Schumer, for instance, is forwarding a plan to require the military to inform the FBI when an enlistee is rejected for excessive drug use. Such a policy would have prevented Jared Loughner, the primary suspect in the Tucson, Ariz., shootings from buying a weapon, Schumer said.
Mr. Loughner had attempted to enlist in the Army but was rejected for failing a drug test, according to a report by the Associated Press.
---