Study offers clues about US illegal immigration patterns
The number of illegal immigrants in the US is no longer falling, a Pew survey finds. The report tracks the community's flight from tough illegal immigration laws and pursuit of job opportunities.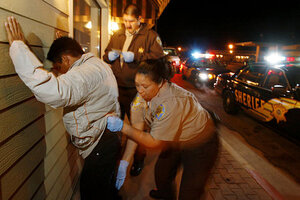 Ross D. Franklin/AP/File
For the first time since the 1940s, Florida saw more people moving out of state in 2009 than migrating into its recession-struck suburbs. Included in that historic economic exodus were hundreds of thousands of the state's illegal immigrants.
To be sure, states like Arizona and even some Virginia counties have also seen illegal immigrants move away as lawmakers enacted tough state illegal immigration laws, with some leaving the US altogether.
But even as the total number of illegal immigrants in the US fell from 12 million in 2007 to 11 million in 2008, a drop attributed to the sharp decline in the US economy, the numbers rose in the relatively prosperous states of Texas, Louisiana, and Oklahoma, which enjoy a low cost of living and lower-than-average unemployment.
According to a new Pew Hispanic Center survey, the trend for those states continued from March 2009 through March 2010, a period which saw only a slight uptick in the number of illegal immigrants nationwide. The pattern strengthens the notion that job opportunity – or lack of it – still is the main motivation for unauthorized migrants plying America's underground job market.
---