New York poised to ban smoking in Central Park, Times Square
Smokers in New York will have fewer places to puff when Mayor Michael Bloomberg signs a new law banning smoking in the city's parks and on its beaches.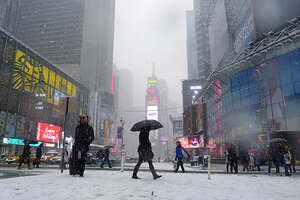 Gary Hershorn/Reuters
The air in Central Park, the green refuge at the heart of Manhattan, is going to be even fresher under a new city law that will make it harder for the city's smokers to find a place to puff away.
The new law, which bans smoking at city parks and beaches and was passed by the City Council on Wednesday, will make New York one of the best places in the world for nonsmokers or one of the toughest on smokers, depending on your point of view.
Ninety days after Mayor Michael Bloomberg signs the bill into law, smoking will also be illegal in such places as the pedestrian mall in Times Square and on the boardwalk and beach at Coney Island. Violators could be punished with $50 fines.
The city already bans smoking in bars and restaurants, a move that was followed by scores of other cities. And, smokers in the city pay the highest taxes in the nation – $5.85 a pack.
"New York City has been a leader on smoke-free issues and a lot of other cities will follow," says Bronson Frick, associate director of Americans for Nonsmokers' Rights in Berkeley, Calif. "What happens in New York tends to spread around the world."
The California Legislature passed a bill early in 2010 banning smoking at state parks and beaches, but it was vetoed last May by Gov. Arnold Schwarzenegger.
---