In Mississippi, snow-plowing tractors no match for latest winter storm
Snow and cold records are falling across the South as another winter storm blankets parts of Mississippi with half a foot of snow. One mayor admits he might have to buy a plow.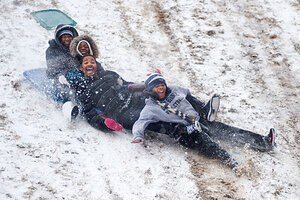 Bruce Newman/Oxford Eagle/AP
As yet another major winter storm broke the all-time winter snowfall record in the northern Mississippi town of Booneville Wednesday, Mayor Joe Eaton found himself staring at some unusual challenges for a place where the annual average temperature is 60 degrees.
After a 10-inch snowfall in late January and another three inches Wednesday, his troubles include keeping out-of-school kids from getting into trouble with their all-terrain vehicles as well as finding money in the budget to upgrade his makeshift snow removal equipment.
Coming off a colder-than-average winter in 2010, this season's record-setting cold and snow is supplying the citizens of Dixie with a new appreciation for what their Yankee brethren deal with on a more regular basis.
What's more, the steady winter storm chaos is forcing officials like Mr. Eaton and Atlanta Mayor Kasim Reed – who commanded a total of only eight plows after a January blizzard closed down the capital of the South – to look past policy debates about global climate change and focus on hard decisions about how to better prepare for the possibility of more cold weather ahead.
---