Robocop statue: A youthful lift for Detroit or a monument to blight?
Could a Robocop statue do for Detroit today what the sci-fi movie hero did for the dystopian Motor City of the future? Critics of the proposal dismiss its pop-culture pop as Rust Belt chic.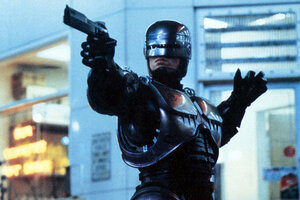 Orion pictures/Newscom
Old movies can cast a nostalgic glow on just about any setting – even a struggling Rust Belt city such as Detroit.
That's what a group of youthful idealists say they are hoping to do with a sculpture of, yes, Robocop – the hero of a 1980's film of the same name in which a cop dies and is reborn as a cyborg in a dystopian Motor City.
It's been a while since Detroit was mentioned in the same breath as "cool." But add this idea – and the viral attention it has garnered online – to the moody, super-hip Super Bowl ad fronted by rapper Eminem, and Detroit is, if not exactly "grooving," at least stepped a bit out of its old rut in the pop-culture imagination.
RELATED: Detroit's next step to combat blight: buy and rehab vacant homes
While these upticks on the zeitgeist meter hardly mean a major turnaround for a city that has suffered record manufacturing and population losses over decades, they do represent something else that has been in short supply around the once- booming home of the American car industry – youthful energy and maybe even a tad of whimsy.
On the other hand, given the negative image of Detroit in the film, observers are mixed on whether or not the Robocop sculpture is a less-than-useful form of "blight chic."
---