Annual report cites rise in hate groups, but some ask: What is hate?
The Southern Poverty Law Center says the number of US hate groups has topped 1,000 for the first time. But conservative critics say a too-broad definition of hate stifles legitimate debate.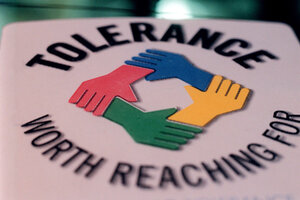 Jamie Francis/Newscom
Even as the Southern Poverty Law Center points out that the number of US hate groups has topped 1,000 for the first time, the civil rights organization is receiving flak from critics on the right who say an overbroad definition of "hate" vilifies innocent people and stifles vigorous debate about issues critical to America's future.
Tension erupted recently between the SPLC and a slew of Republicans, including House Speaker John Boehner of Ohio and Rep. Michele Bachmann of Minnesota (who tops the SPLC's "militia enablers list"), who protested the SPLC's listing of the conservative Family Research Council as a hate group. The SPLC said the Family Research Council is knowingly pushing falsehoods about gay people.
The tension between the SPLC and its critics on the right underscores that "conflicts in America today are deeper than they were in the 1850s," says Donald Livingston, an Emory University philosophy professor and a former member of the pro-secessionist League of the South, which the SPLC today lists as a hate group.
---