Japan's earthquake: If tragedy and comedy can coexist, how and when?
Comedian Gilbert Gottfried was fired as the voice of the Aflac duck for joking about Japan's earthquake in the days after the tragedy. But that doesn't mean humor isn't helpful in horrific times.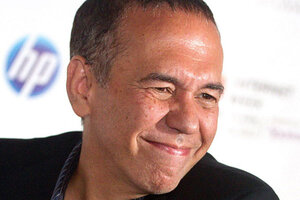 Charles Sykes/AP/File
When tragedy hits, is there room for comedy?
That's a question that has faced comedians as well as ordinary folks any time horrific events such as the earthquake and tsunami in Japan overtake the headlines.
Actor and stand-up comic Gilbert Gottfried tested the limits last weekend, in the immediate aftermath of the natural disaster that has claimed still-untold thousands of lives, and rediscovered the essential rule of comedy – timing is everything.
Mr. Gottfried, known for his often-over-the-top routines, was also the voice of that wacky duck that flaps through the Aflac insurance ads. But no more.
After he tweeted a dozen or so tsunami-related jokes over the weekend, the insurance giant – which does nearly three quarters of its business in Japan – fired him.
"Gilbert's recent comments about the crisis in Japan were lacking in humor," Aflac senior vice president Michael Zuna says in a company statement, "There is no place for anything but compassion and concern during these difficult times."
In the context of the R-rated comedian's oeuvre, some of the tweets were mild: "Japan is really advanced. They don't go to the beach. The beach comes to them."
"What does every Japanese person have in their apartment? Flood lights," and "I was talking to my Japanese real estate agent. I said, 'Is there a school in this area?' She said, 'Not now, but just wait.'"
Others cannot be reprinted in a family media outlet.
---