Census data show Hispanic boom. How it could impact US politics.
The US Hispanic population grew 43 percent during the past decade to 50.5 million – more than half the country's population growth. The demographic trend could impact elections.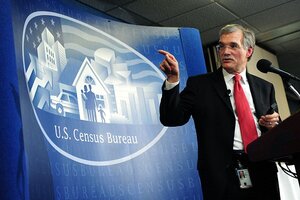 Newscom
White Americans are still the majority in the United States, but they're rapidly being overtaken by Hispanics, according to the latest Census Bureau report, and this could have important political ramifications.
During the past decade, the Hispanic population in the United States grew 43 times faster than the non-Hispanic white population, the Census Bureau reported Thursday. Put another way, between 2000 and 2010 the US Hispanic population grew 43 percent from 35.3 million to 50.5 million. Its share of the total population rose from 13 to 16 percent. That accounts for more than half the total US population growth since 2000.
At the same time, Census Bureau officials reported, the non-Hispanic white population grew by barely more than 1 percent, dropping as a portion of the total from 69 percent to 64 percent.
RELATED: Could you pass a US citizenship test?
The main reasons? Birth rate and immigration – legal and illegal.
"This is a population that's young, whose growth is driven increasingly by births and not immigration," D'Vera Cohn of the Pew Research Center told the Reuters news agency. "It's a population that's expanding into virtually every county of the country, and growing especially sharply in states where Latinos had not been a presence a decade or so ago."
---
Follow Stories Like This
Get the Monitor stories you care about delivered to your inbox.