How to fix America's worst schools
One school in Chicago shows the promise and pitfalls of a federal effort to turn around the nation's bottom-tier schools.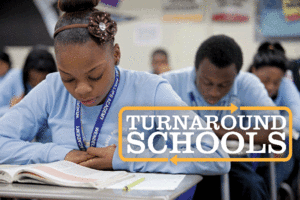 Melanie Stetson Freeman photo/John Kehe staff illustration
About 10 juniors and seniors sit in Joyce Randolph's history class at Wendell Phillips Academy, a predominantly black high school on Chicago's south side, wrestling with a question they have focused on for weeks. Just how revolutionary was the American Revolution?
Ms. Randolph, an animated teacher who doesn't brook lethargy in her class, pushes the students to elaborate.
"Give it to me in your own words," she exhorts. At this point, she isn't looking for answers as much as wanting to make sure they understand what she's asking.
"How can we write an essay if we don't understand the question?"
Finally she gets a response from one young man: "Did the Revolution bring about significant change?"
"Awesome!" says Ms. Randolph, as she points to another student. "Curtis, what does 'significant' mean?"
She's met with a blank stare. Silence.
It's one of the dilemmas for many of the new teachers at Phillips, brought in a year ago to try to turn around this chronically failing high school. They are determined to do higher-level work with their students but often run up against basic vocabulary and reading-comprehension challenges. At the beginning of the year, 27 percent of the freshmen at Phillips read at a third grade level or lower.
What's going on in the classrooms of this inner-city high school is part of one of the toughest – and most important – experiments in American education today.
---