Bad times at the box office: Is it competition, the economy, or bad films?
Box office revenues are down 20 percent for the first quarter of 2011. While it is fair to blame the bad economy and abundance of alternatives, some good movies could turn things around.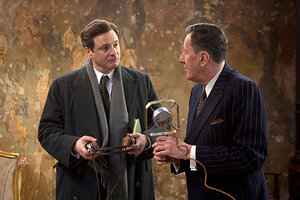 Laurie Sparham/The Weinstein Company/AP
Been to a movie lately?
With the first quarter US box office down a whopping 20 percent over 2010, the odds are pretty good that instead of heading out to the multiplex, many Americans simply tossed in a DVD, flipped on Hulu, or logged into their Netflix subscription to stream a film instead.
And these are only a few of the many proliferating options that are cutting into industry profits this year. Mind you, revenues for the quarter still hit nearly $2.1 billion – versus just over $2.6 billion in 2010. But much like the car dealer in town, the movie business is built on steady return customers.
RELATED: Ten best movies of 2010
"It's all about momentum," says Hollywood.com box office expert, Paul Dergarabedian. "When movie-going is a habit, then audiences see the trailers for the next movies, read the posters, and stay in the loop so it builds on itself.
"The worst thing that can happen," he adds, "is that audiences simply lose the habit of going out to the movies, which makes it harder and harder for even the best movies to draw people in."
In fairness, Mr. Dergarabedian points out, the first three months of last year were led by "Avatar," the biggest box-office draw in history. "So we are in a pretty big shadow," he says. Nonetheless, he adds, "the movie business is entirely product-driven, so if the profits are down, that means the movies aren't doing their job."
---