Templeton Prize surprises Cambridge astrophysicist Martin Rees
Astrophysicist Martin Rees, a man of 'no religious beliefs,' was awarded the Templeton Prize for helping humanity address 'fundamental questions of our nature and existence.'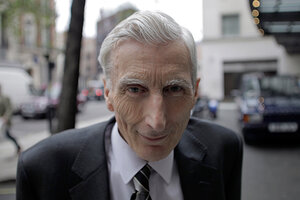 Lefteris Pitarakis/AP
As the Master at Trinity College, one of Cambridge University's top academic posts, Martin Rees attends chapel every week. He enjoys the choir and the readings from the King James Bible. He participates in the service, mainly out of respect for tradition.
But Professor Rees, a world-renown astrophysicist, says he has no spiritual interest in the service. "I have no religious beliefs myself," he says.
That may be one reason Rees was surprised to learn he is the winner of this year's Templeton Prize, $1.6 million given to a living person who has made exceptional contributions to affirming life's spiritual dimension.
"I didn't think I had the credentials," he says.
But on Wednesday in London, John Templeton, president of the Templeton Foundation, announced that Rees had won the award because he tackles big questions, by "peering into the farthest reaches of the galaxies" and opening a window "on our very humanity, inviting everyone to wrestle with the most fundamental questions of our nature and existence."
Spiritual dimension of science
In the past decade, the Templeton Prize, which was founded in 1973 by the late Sir John Templeton, an investor and the current foundation president's father, has oriented toward the sciences, awarding the distinction to eight scientists, including physicists and mathematicians, and two philosophers. In its first 10 years, what was then called the Templeton Prize for Progress in Religion was given to religious figures such as Mother Teresa and the Rev. Billy Graham.
---