'Game of Thrones': Can HBO make fantasy work on the small screen?
HBO is hoping that George R. R. Martin's 'Game of Thrones' will succeed as a fantasy hybrid of 'Sopranos'-style gangster drama and 'Rome'-style historical epic.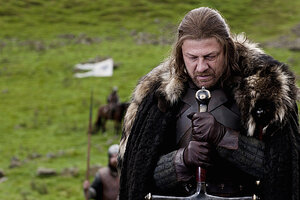 Nick Briggs / HBO / File
When "The Sopranos" went dark for the last time on HBO, many fans wondered how the premium cable channel would replace the bloodthirsty families dueling to the death over money, power and honor. Ponder no more. This weekend, the premium channel offers its new. multi-part "Game of Thrones," based on the best-selling series by George R. R. Martin, with gore, lust and epic violence on a scale rarely seen on the small screen.
What's new? More than a soupçon of science fiction and fantasy. The question is, will audiences tune in for such a shift in tone and venue? The novels, collectively known as "A Song of Ice and Fire," recount sprawling, multi-generational battles over illustrious thrones and kingdoms, set in mythic times with lurking mystical elements. But lest anyone think this is merely a videogame brought to life – dragons and dungeons with pretty princesses and evil lords dueling dark magical forces – the story is aimed squarely at a mature, adult audience, executive producer David Benioff told reporters during January's Television Critic's Association in Pasadena.
---