William & Kate wedding: Most Americans won't tune in
Most Americans aren't enthralled by the royal wedding. Rather than get up at 4 a.m. to watch, they're more likely to be interested in what Jon Stewart or Stephen Colbert have to say.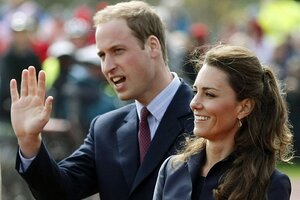 Tim Hales/AP
Mrs. Ross Hunt uses expletives to describe massive, global interest in the royal wedding. An American who left communist Prague 40 years ago, she will not be among the projected two billion worldwide television audience on April 29 to witness the marriage of Prince William and Kate Middleton.
She is evidence, say media watchers and sociologists, that Americans are looking at the royal wedding through a different cultural lens than the British. When 750 million watched the wedding of Charles and Diana in 1981, it was the largest TV audience in history. But much has changed since then, especially on this side of the pond, they say.
"Today we look at this wedding with a more jaundiced eye," says Debra Caruso, founder and head of DJC Communications, a New York-based media firm.
"More of us are waiting to see how Jon Stewart, David Letterman, and Stephen Colbert will frame the event," she says. "We're attracted to the negative. Will there be a slip-up? Will someone mouth words on camera that will make headlines? Guaranteed, the fashion 'don'ts' will make more news than the fashion 'dos'."
---