Prince William and Kate Middleton: For women, romance or nostalgia?
Weddings in general – and this royal wedding in particular – look different to single and married women, say experts. 'It's the dream come true' to the former, and the 'dream that was' to the latter.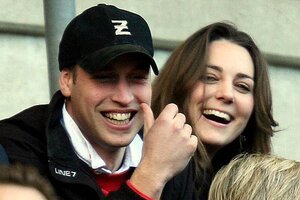 David Davies / AP / File
When Kate Middleton weds Prince William on Friday morning, married and single women across America will gather at more than 6200 "viewing events," according to thehotlist.com, a new "social decision engine" that tracks event planning across social media such as Facebook and Twitter.
While the hitched and unhitched alike will share the fun and surprises of the moment (Kate's dress designer revealed!), their very different attitudes and perspectives about marriage provide a window into the changing views on that institution in the US.
"There will be many eyes on this wedding, and they will all be bringing very different experiences and ideas about family and dating," says Dahlia Keen, a clinical psychologist who specializes in marriage.
Author Susan Shapiro Barash says the experience of this wedding will be very different for single and married women.
"For single women, it's the dream come true," says the author of a dozen books about relationships, including "The New Wife: The Evolving Role of the American Wife."
But for married women, she says it's "often the dream that was" – because romance and expectation are different once you've moved the fantasy into your own life, she adds.
Pop culture expert Adam Hanft, CEO of Hanft Projects, notes that the royal wedding comes at a time when American marriage itself is in a state of flux.
---