How Kate Middleton and Prince William could hurt marriage in the US
The lavish wedding of Kate Middleton and Prince William comes as reality TV is fueling the appetite for 'perfect' (and expensive) weddings in the US. But most people can't afford them.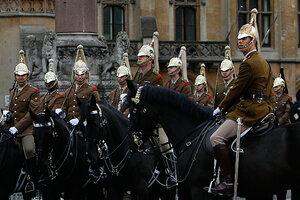 Alastair Grant/AP
The wedding of Kate Middleton and Prince William may be British, but it fits squarely into the burgeoning "fairy-tale wedding" craze that has thrived on American reality TV and helped drive the cost of the average American wedding to $30,000.
The lavish spectacle sets the bar at a precarious new height for another generation of young brides aspiring to a "dream wedding," normalizing the most expensive in everything bridal, from a couture gown to real diamond tiaras.
Some in the wedding industry suggest that the phenomenon is contributing the continued decline in the US marriage rate – from 72 percent in 1960 to 52 percent in 2008. As the cost of a wedding rises, some young couples are choosing to defer or forgo the institution altogether, says Allison Wisnefski, CEO of the online resource site, justweddings.com.
"We are in an age of reality television, particularly including lavish Hollywood-type weddings," such as those on "Real Housewives," "The Bachelor," and "The Royal Wedding," she says via e-mail.
The amount of reality television portraying the "perfect" wedding (with an unaffordable price tag) "is one of the biggest causes for the drop in marriages," she suggests. She sees clients that are "not even getting married, and using the $30,000 toward their living, whether they buy a home in the down economy or rent."
---