Why Americans can't stop obsessing over the royal wedding
For a nation without a king, America can't seem to get enough of the British royalty. Is it admiration of an elegant culture or just drooling over their jewels – or both?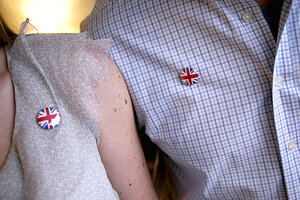 Evan Vucci / AP / File
Behind the patina of pomp – the bunting, flags, trumpets, and carriages – Friday's royal wedding highlights the ironies behind why people who tossed off monarchy 235 years ago now find themselves riveted by royalty.
Indeed, Americans and Brits will view the wedding very differently, say historians, magazine editors, and sociologists.
"The Brits may be calculating a bit more about how much it's all costing, and who's who – they'll be paying sharp attention to snubs, and who's seated where, says Sally Kilbridge, deputy editor of Brides Magazine.
"We Americans are an easier lot to please – easy to dazzle with pomps and parades, since we have so little of it," she says. "Show us an Irish Guard in polished boots and we just about fall over backward, so imagine what the scene of hundreds of gorgeous horses and shiny carriages and smart uniforms will do to us. Add a gorgeous young woman in a real diamond tiara and we're besotted."
"There is clearly something odd going on in America's fascination with the royal wedding," says Patrick Allitt, a native of Great Britain who teaches American history at Emory University in Atlanta.
---