Royal wedding: Women see romance, men see history. Both like the story.
Royal wedding pageantry around William and Kate's big day is here, and men and women are focusing on different aspects. But the appeal of the basic story line means both will be watching.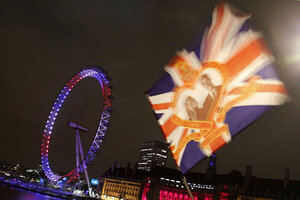 Kai Pfaffenbach/Reuters
Will and Kate's big day is almost here. But while Americans of all ages and professions have been feasting regularly and deeply on this banquet of public pageantry, one thing has become quite clear – men and women are sipping from decidedly different cups.
Women have a slight edge when it comes to celebrating the event. According to thehotlist.com, a "social decision engine" that tracks the activities of some 100 million users across social media such as Facebook and Twitter, women make up some 57 percent of those planning social events to watch the wedding broadcast.
"The royal wedding is not as emotionally salient to men as it is to women," says Terri Orbuch, a Detroit-based social psychologist and author, who adds, "women are far more invested in the relationships and connections around weddings than men in general."
For the men who are tuning in, their interest is more geared to the externals – historical details and symbolism – says Thomas Smith, an Atlanta-based public relations professional.
"I've been following the coverage in print and online," he says, adding, "I'm very intrigued by the pageantry and processions and preparations."
---