National Day of Prayer a testament to America's uniqueness, backers say
National Day of Prayer activities include speeches and gatherings of many different faiths. Controversial to some, the National Day of Prayer has roots in the earliest days of the nation.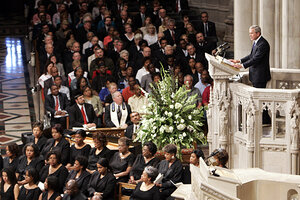 Susan Walsh/AP
Black activist Najee Ali will be attending Muslim services at Bilal Islamic Center in Los Angeles, where after standard prayers, a speaker will briefly address the killing of Osama bin Laden.
Episcopal priest the Rev. Albert Cutie will attend Trinity Cathedral in downtown Miami with virtually all Christian denominations as well as Imams and Rabbis in attendance. [Editor's note: The original version misstated Father Cutie's religion.]
University of Minnesota's Nick Campbell, who calls himself a "non-denominational Christian," will likely be "too caught up in my own schedule, agenda, schooling, etc…. too distracted to pray … something I am always working on."
The common denominator is that all of the above consider themselves highly religious people who heartily welcome today's National Day of Prayer, a day formally designated by Congress and President Harry Truman in 1952 and carried on by every president since. Similar proclamations were signed last year by all 50 state governors and those of several US territories.
---