'Thor' comes to the big screen: What's a Norse god doing in a Marvel comic?
The summer's first blockbuster, 'Thor,' takes a character from the Norse pantheon to the big screen – by way of the Marvel stable of superheroes.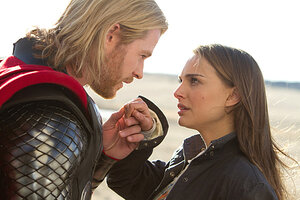 Zade Rosenthal / Paramount Pictures-Marvel Studios / AP
The first of the big, summer comic-book-hero movies, "Thor" thunders into theaters this weekend. Not only the first of the summer, "Thor" is also the first comic-book hero actually based in a real – that is to say, ancient – mythology, in this case the pantheon of Norse gods.
His tale comes to the big screen replete with the tony trappings of entertainment royalty, from the Shakespearean directing pro Kenneth Branagh to Oscar-winners Anthony Hopkins and Natalie Portman.
But, as one of the rare action figures drawn from existing myths, the question arises: Why this god and not any other – and what does the historical link add to the tale?
Comic-book characters were born as a sort of alternate, adolescent mythology, points out comic book maven Stephen Fishler of New York's Metropolis Collectibles. So when Marvel's Jack Kirby imported Thor from the traditional tales, back in 1962, he did so with a very specific purpose, Mr. Fishler notes. Instead of the usual, Marvel figure of a human who accidentally becomes super-human, "he was looking for the equivalent of a super-hero, like Superman," lodged firmly in the pantheon of Marvel's rival, DC Comics, he says.
---