Is daytime TV in decline, or just getting ready for the next 'big thing'?
Daytime soaps are dying and Oprah is leaving, sort of, so where is daytime TV headed? With changing demographics and women's evolving tastes, it's not yet clear where the next hit will come from.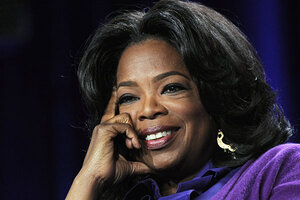 Chris Pizzello/AP/File
When nominations for the 38th Annual Daytime Emmy Awards came out Wednesday, there were no "gasp!"-level surprises amid the nods to shows in such durable daytime genres as talk shows, soap operas and children's programming.
Everything from "The View," Rachel Ray, and Dr. Phil to Pat Sajak, Alex Trebek, and Sesame Street was recognized.
The list was a snapshot of the daytime landscape as it is today, but it was released against a backdrop of big changes that leave a question mark in the minds of many.
With a dwindling number of soap operas on the air – TV's oldest and most adaptable daytime format, down by two-thirds compared with a decade ago ­– and the May 25 departure of daytime talk show colossus, Oprah Winfrey, where is daytime television headed?
"This could be a great opportunity for a new genre or some new talent to emerge," says Yahoo! TV Editor Matt Whitfield.
While he is not convinced that Ms. Winfrey will exit the daytime real estate for good – "It's her strength, so why not keep playing to it?" ­– he points out there are a number of candidates jostling for daytime air.
---