Online media is replacing newspapers and TV. Is that a bad thing?
How the new online media landscape is changing the way the public gets its news.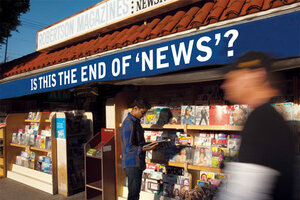 Stephanie Diani/John Kehe photo illustration
Call it two scenes from the new media revolution.
Scene 1: Room 233, the TV lounge on the second floor of American University's Anderson Hall dormitory, isn't exactly state-of-the-art home theater, but you could do a lot worse. There are dining tables, upholstered chairs, and a love seat all in front of a 42-inch Toshiba flat screen – and plenty of room.
At 6:30 on a pleasant April evening, as the opening bars of network evening news music play in living rooms elsewhere, the lounge is ... empty, except for one student having an in-depth cellphone conversation about his grade-point average. The TV is black. And as the minutes pass, the conversation rolls on: proof that if you want a quiet place to talk in a modern American college dorm, there may be no better place than your nearest TV lounge at the dinner news hour.
And it's not just the TV news that is largely forgotten here. There are no discarded sections of folded newsprint on the tables, either. Students at American get free copies of The New York Times and The Washington Post, but most don't bother – or they do so for different sorts of reasons. "I like the comics [in the Post]" says Susan Stine, a junior.
---