After the space shuttle, astronaut corps awaits a new mission
NASA's once-iconic astronaut corps will shrink but still play a vital role as the space shuttle era comes to an end.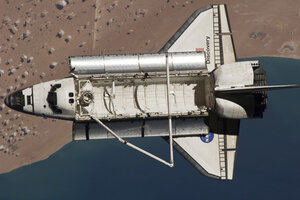 NASA/AP
Inside a cavernous hall, a nose-to-tail replica of a space shuttle fuselage rests like a beached whale on a floor nearly two football fields long. It shares the space with a large mock-up of the International Space Station, a Russian Soyuz capsule, scaffolding, smoke machines, and other tools of the spaceflight-training trade.
When astronauts stride into the hall for a practice session here at NASA's Johnson Space Center, they pass a partition hosting large mug shots of assigned crews, with the shuttle team closest to launch in the "prime" position.
"To the crew members, it's a big deal to get on that wall," says Tim Reynolds, who has managed the facility through 62 shuttle flights and 27 space-station crews.
Even before the wheels of a shuttle touch down on the runway at the end of a flight, he says, the next crew is in line, saying: "Get over here; get those has-beens off the wall!"
With Endeavour's final shuttle mission now underway (it launched Monday, May 16), the queue waiting for the prime spot on "Tim's Wall" has all but vanished. One crew remains to launch aboard the shuttle Atlantis in late June, federal budgets willing.
It's the beginning of the end of the US astronaut corps as generations of Americans have known it. Fifty years after its birth, the astronaut program – one of America's most iconic ventures and an integral part of the nation's self-image – is undergoing a transformation.
---