Why Obama rejected John Glenn's plea to save the space shuttle progam
In a 40-minute plea at the White House to save the US space shuttle, John Glenn said that relying on the Russians to get US astronauts into space was a mistake. Why did President Obama turn him down?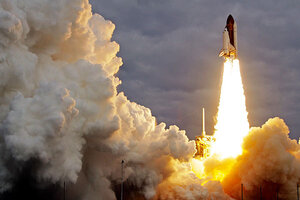 John Raoux/AP
By Peter J. Boyer, NewsweekDailyBeast
As a presidential candidate, Barack Obama once remarked that America's space program had become so uninspiring the space shuttle missions scarcely qualified as news. He could not have foreseen the drama attending the twice-delayed launch of the shuttle Endeavour. As many as half a million people crowded the beach roads and byways around Cape Canaveral to watch the stubby space plane push through the morning sky, an awesome spectacle of rocket power, before disappearing into orbit for its rendezvous with the International Space Station.
---