The Preakness: More important than its glamorous Kentucky Derby cousin
The Preakness is the Triple Crown's backstretch, where the prospect of drama emerges. It's also the place where a little horse named Seabiscuit beat Triple Crown winner War Admiral.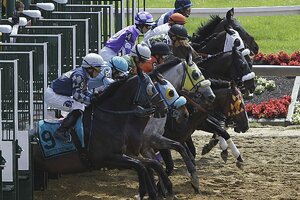 Steve Helber/AP
The Preakness may be America's greatest horse race. That's probably not as important a boast as it used to be, given the sport of king's long US decline. But the underappreciated middle leg of the Triple Crown is a superior sporting moment to its more glamorous Kentucky Derby cousin.
The Kentucky Derby goes first, to be sure. It's got a song ("My Old Kentucky Home") a drink, and better women's hats. Asked to name one national horse race most Americans would probably come up with the Derby.
The Preakness is the Triple Crown's backstretch, however, and as any rail fly knows, it is in the backstretch of an equine contest that the prospect of drama emerges. Every Kentucky Derby winner may win a Triple Crown champion. The Preakness is when that becomes a real possibility – or dreams are left in the Old Hilltop dust.
RECOMMENDED: Kentucky Derby 2011: Five fantastic finishes of the past
As Preakness 2011 post time approaches, here are three more reasons the race is better than the Derby, (or the Belmont Stakes, for that matter):
IT'S NOT STUFFY. The Kentucky Derby is so enamored of its history that sometimes it seems more like a reenactment of a race from the 1800s than an event of modern times. Those hats. The livery. The song.
---
Follow Stories Like This
Get the Monitor stories you care about delivered to your inbox.